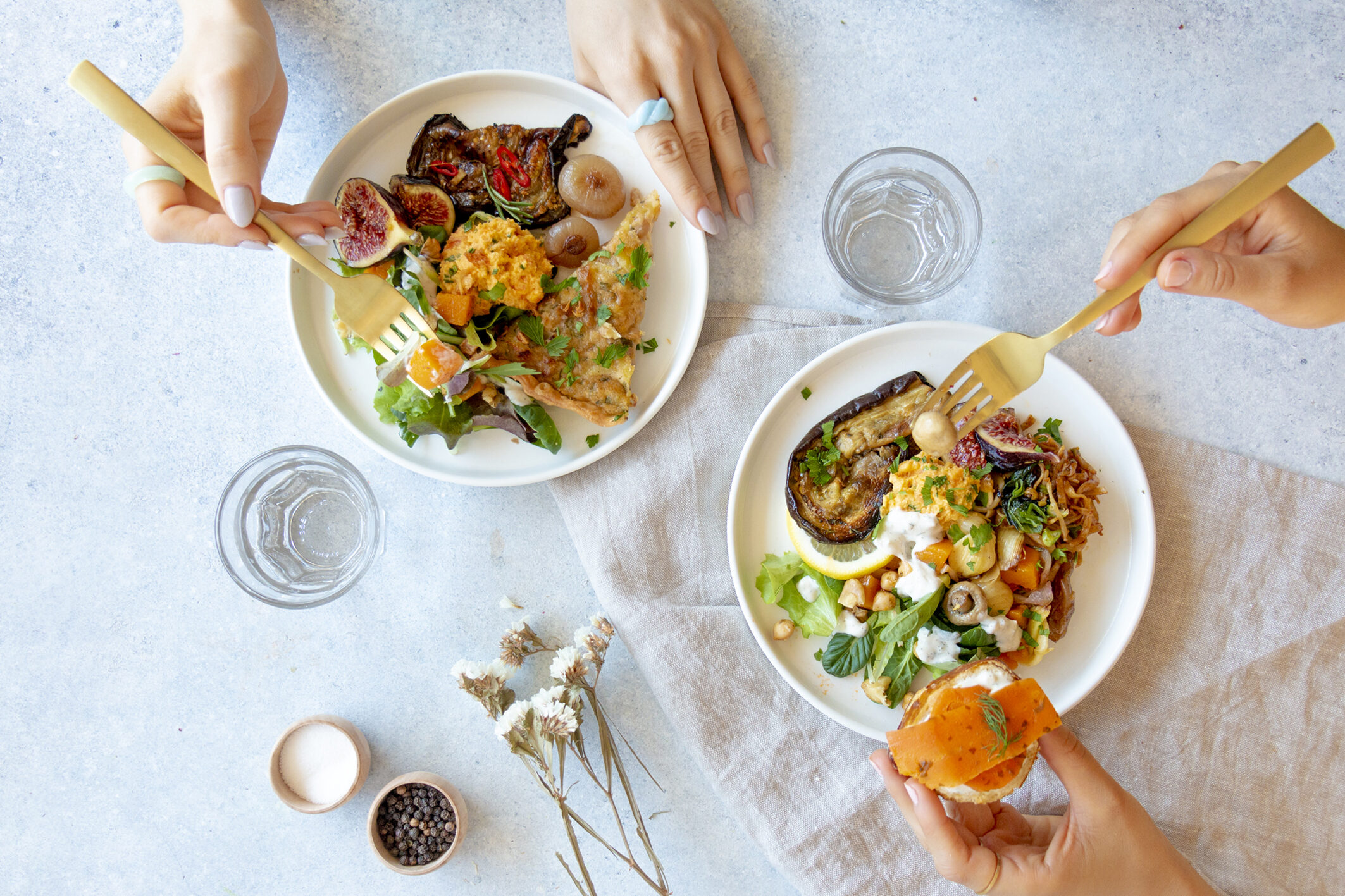 February is the month of Candlemas and carnivals, and therefore Bugnes (knotted, deep-fried, sweet-dough pastries), and other tasty wonders. But it's also the month following the annual Veganuary challenge, with participants adopting a 100% plant-based diet in January.
So, whether you're inspired by Veganuary, would like to load-up on vitamins to help you face the end of winter, or just looking to reduce your consumption of animal products, there's always a good reason to eat vegetarian or vegan food, right?
Join us as we (re)discover some of the city's tastiest vegetarian spots for both dining-in and for takeaway, and above all, the rich flavors of the city:
Tibits
A 2018 renovation transformed the Buffet de la Gare into a self-service vegetarian restaurant, set beneath the gaze of large murals depicting the cities of Neuchâtel, Bern, Montreux, Geneva, Zermatt, and Fribourg. In addition to soups and desserts, around thirty different hot or cold dishes make up the central buffet: the vegan "tartare" made with okara (soy pulp) is particularly successful, both visually and in terms of taste.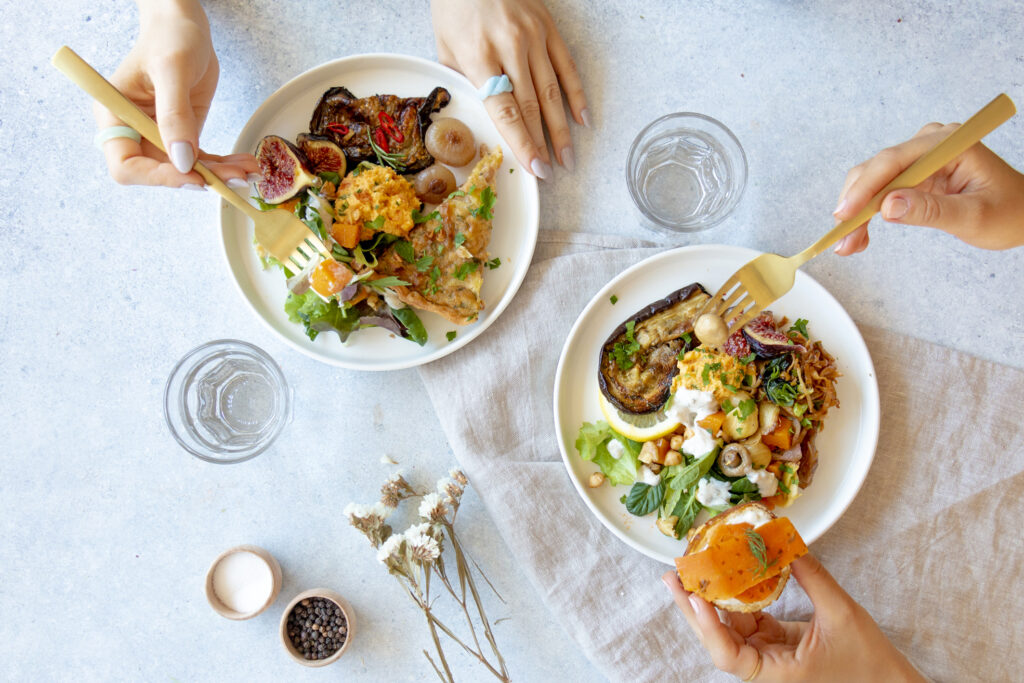 Tibits / Place de la Gare 11 / Monday-Thursday 7 am-10:30 pm, Friday 7 am-11 pm, Saturday 9 am-11 pm and Sunday 9 am-10:30 pm
---
Aux Complices
This Forel-based caterer, delivering to Lausanne, Lutry, and Vevey, offers delicious, visually stunning bentos of both Asian and Mediterranean inspiration. As the co-founder of Aux Complices is of Thai and Swiss descent, there's a joyful mix of flavors in the compositions. An example: Sautéed tofu with Thai basil, jasmine rice, white nori beans and som tam (Thai salad with cucumber, lime carrots, and peanuts). You can place your order on their website (by Tuesday evening at the latest), then pick up your bento at lunchtime on Wednesday at one of their 2 Lausanne relay points: La Chouquette Concept Store or Bel-Air Coffee. Easy !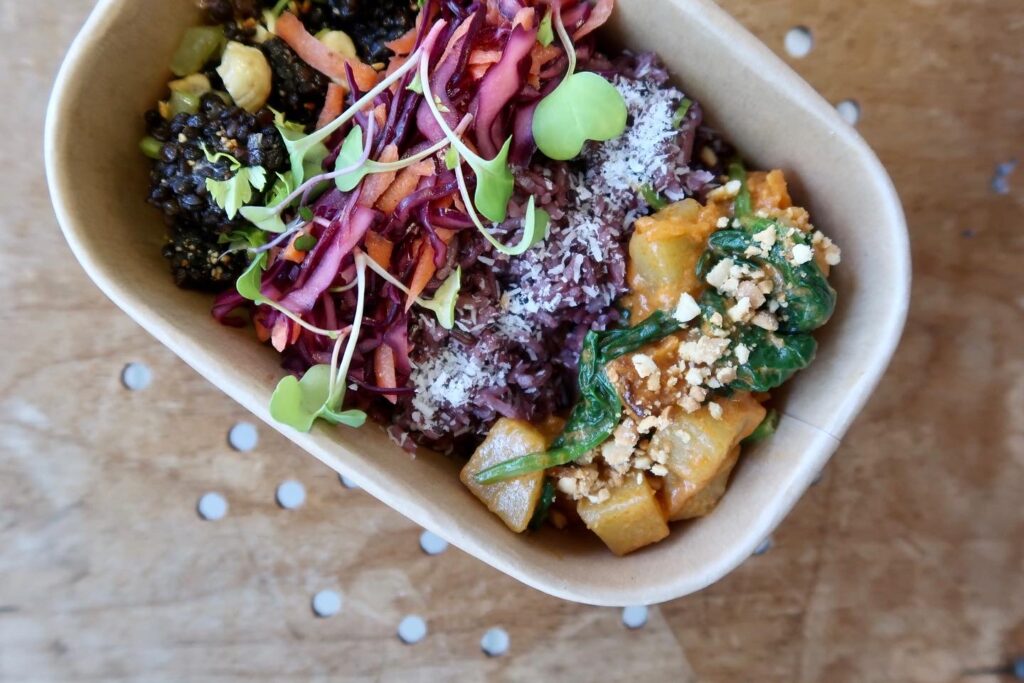 Aux Complices / Route de la Mortigue 10 in Forel / bentos every Wednesday
---
Yogi Booster – Lausanne Palace & Spa
How about a vegetarian meal at the Palace? Located on the same floor as the spa, this small restaurant serves elegant vegetarian cuisine, as well as juices and smoothies. The space is open to all, so you don't need to be wearing a pre- or post-treatment bathrobe. The daily fixed menu includes a starter and a main course featuring salads and grains cooked to order. Cheesecake lovers will be delighted: the avocado cheesecake (gluten-free and lactose-free) is excellent and pleasantly sweet.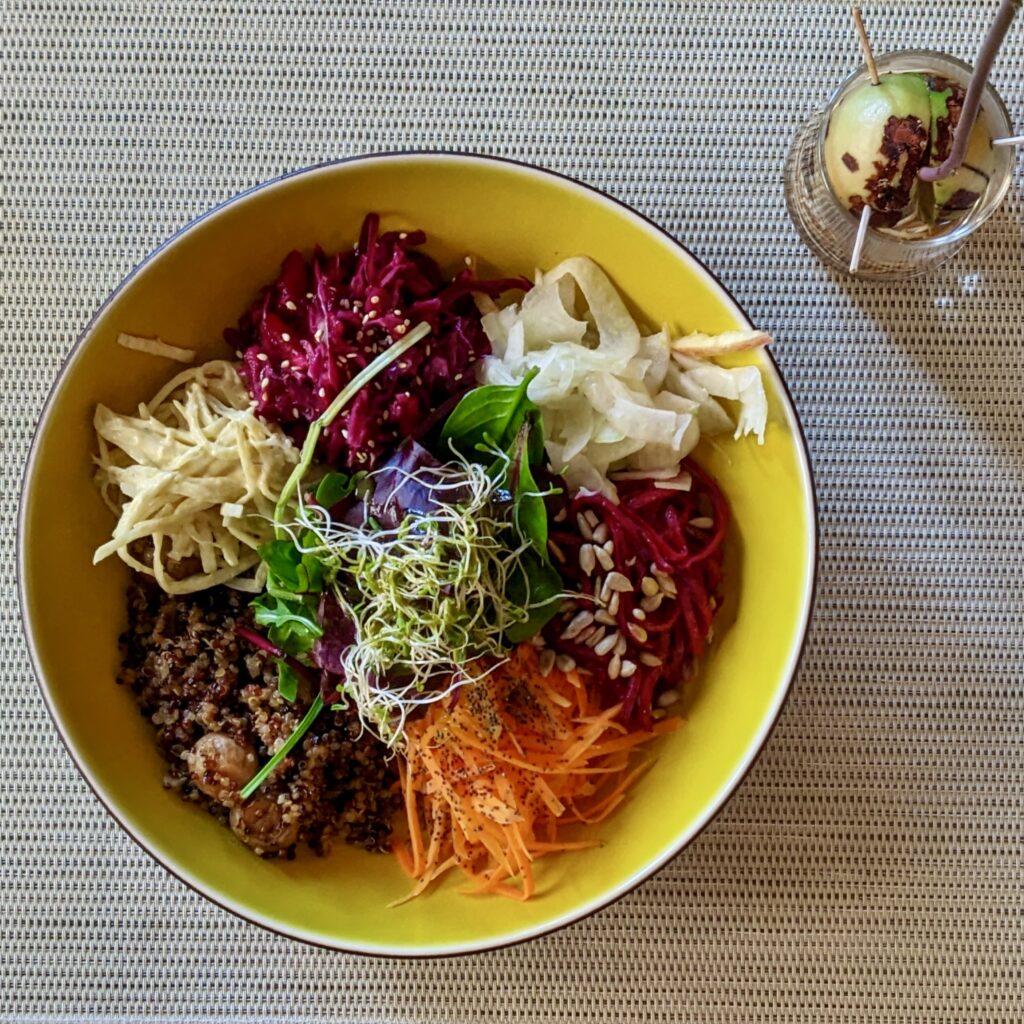 Yogi Booster – Lausanne Palace & Spa / Rue du Grand-Chêne 7-9 / daily 9 am-5 pm
---
Racines
A bright room full of good energy, counters overflowing with a vast selection of sweet and savory vegan dishes, and a warm welcome: it's all found in this pretty arcade. Soft focaccia, pizza, and tasty gluten-free lasagna recall the Italian origins of the founding family, who began the Racines adventure with a food-truck. On Saturday mornings, a stand is also present at the Riponne market, with a selection of take-away food and cold-pressed juices.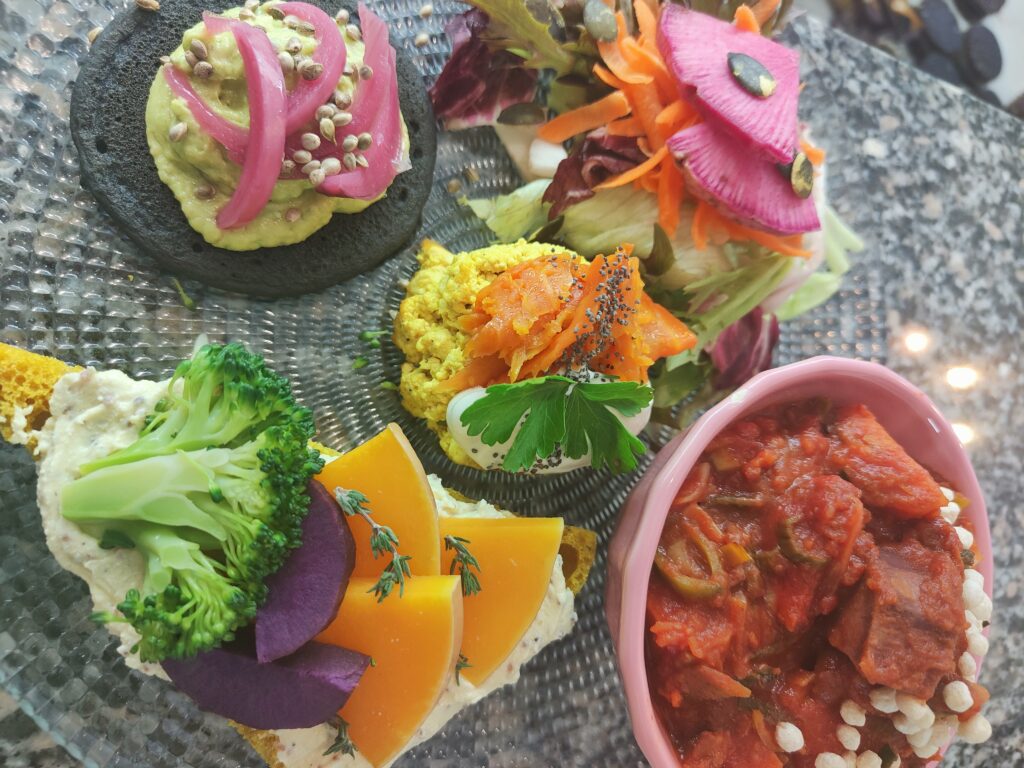 Racines / Rue Neuve 11 / Tuesday-Friday 8 am-5 pm and Saturday 8 am-4 pm
---
L'Ec(h)o
From the street, you wouldn't necessarily guess that this place hides a breathtaking view of the cathedral: it's nearly enough to distract you from your meal! With large windows overlooking the old town, this bright, lively restaurant welcomes a varied clientele who come to enjoy a soup, a nice slice of quiche-salad, or a hot dish (or bowl) of the day at lunchtime. On the savory side, a nice veggie burger topped with a vegetable-chickpea galette is also on the menu. And for dessert, their chocolate walnut brownie (gluten-free and lactose-free) is sure to please fans of cocoa-flavored desserts.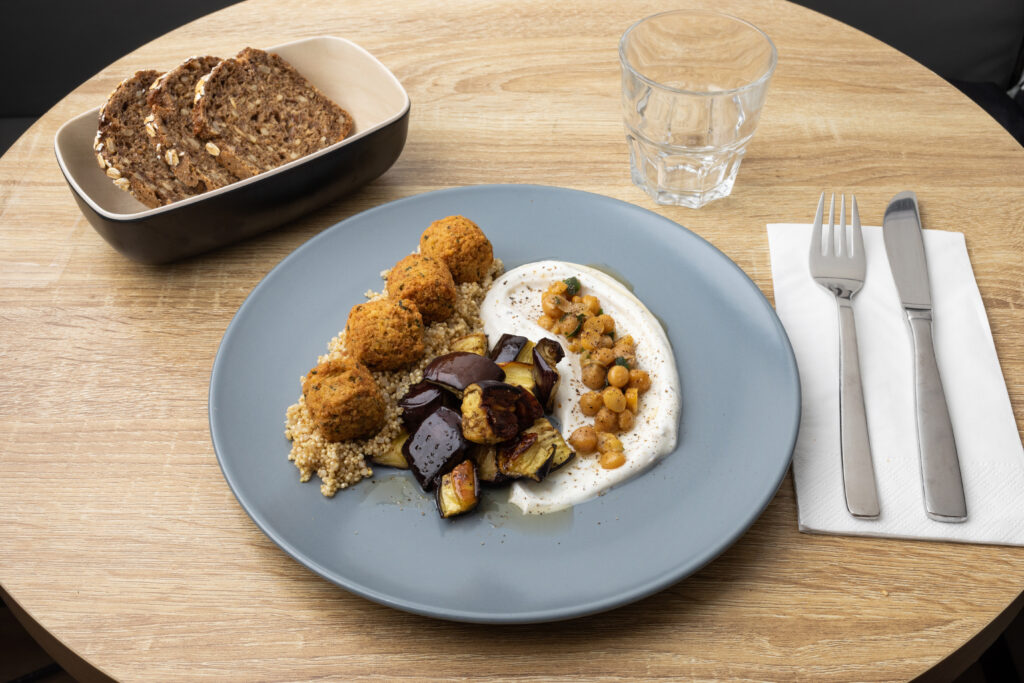 L'Ec(h)o / Rue de Bourg 11 / Monday-Saturday 8 am-3 pm
---
EPIQ
It's hard to climb the Escaliers du Marché without noticing the blue cat adorning the front of this sparkling beer cellar/ fine grocery/ local produce-based vegetarian caterer. Every day, EPIQ concocts tasty wraps, sandwiches and desserts topped with amusingly named ingredients such as, Faumon  Mousse (faux salmon) or Faux Gras. The EPIQ Ranch Wrap, with its vegetable-based versions of "chicken" and "bacon" slices, was particularly successful: you might almost believe you were eating meat.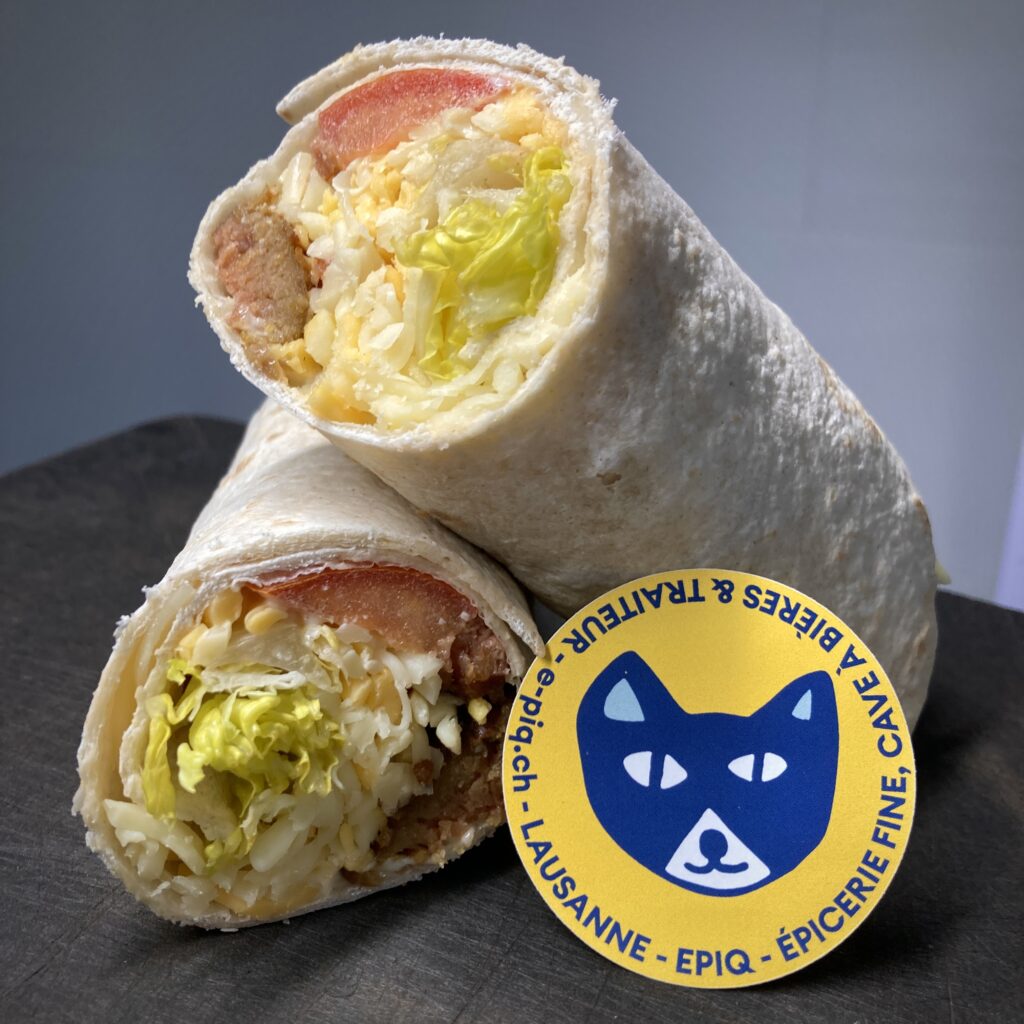 EPIQ / Escaliers du Marché 17 / Tuesday-Saturday 10 am-8 pm and Sunday 11 am-8 pm
---
Yomi
This cute train station-adjacent establishment offers mainly plant-based dishes for lunchtime service (the only exception is the chicken available for salads). Hot dishes and a colorful assortment of salads change weekly, and the cookies are particularly tasty–especially when you're lucky enough to get them straight from the oven!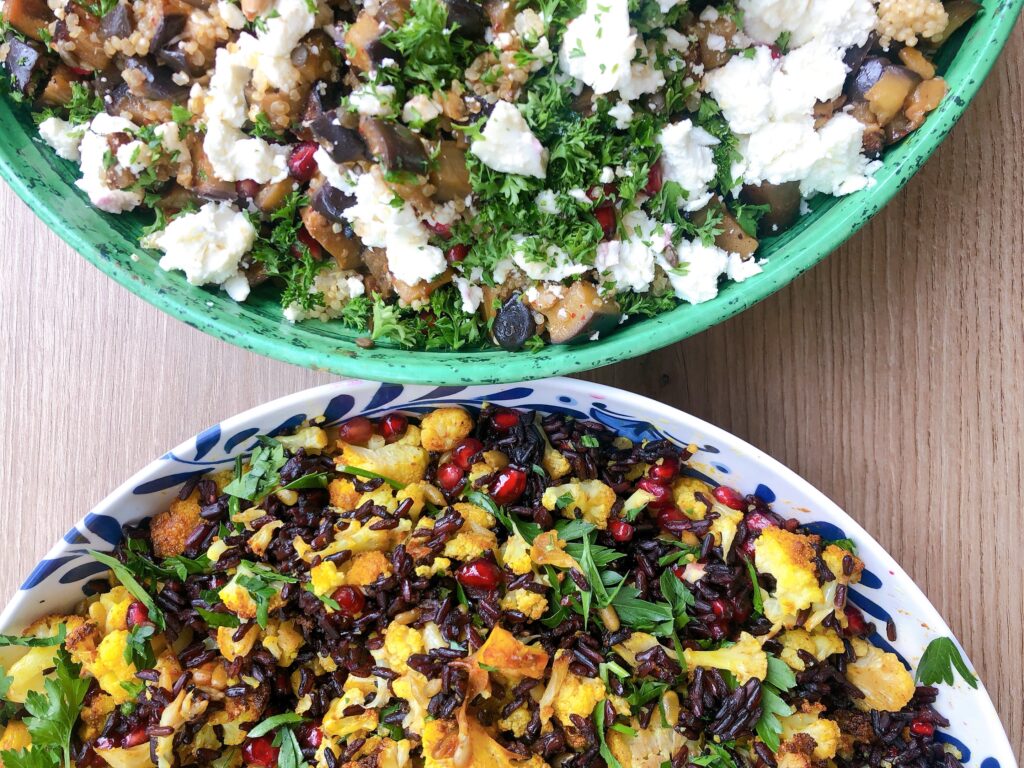 Yomi / Rue du Simplon 1 / Monday-Friday 8 am-3 pm
*This blog post is not a ranking; the order is at random.