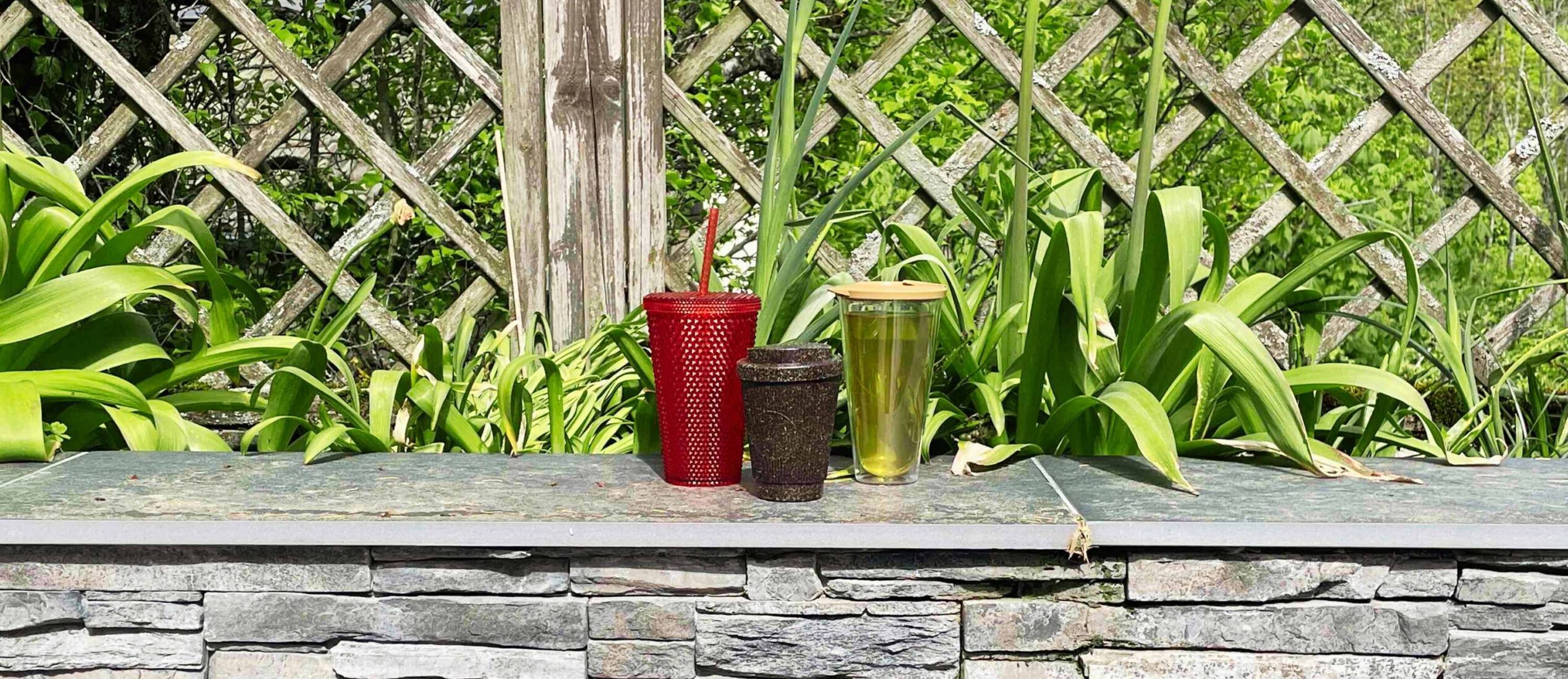 The beautiful weather is back and its finally time to enjoy the parks, the lakeside, or to rest on one of the city's benches while sipping a delicious drink.
We propose 12 destinations that will brighten up your day with their original and varied choices of drinks to-go. Hot, cold, sweet, detox… Everything you need for a gourmet break!
The MARUtCHA Latte Float
You are probably familiar with the Matcha latte. But have you ever tried MARUtCHA's Latte Float? Every summer, this small Japanese store, a three-minute walk from the Place Saint-François, offers a revisited Ice Matcha latte: Matcha, choice of milk and a scoop of matcha ice cream. Ideal for a gourmet break in the early afternoon.
MARUtCHA / Rue de la Grotte 2 / Tuesday-Saturday 11:30 am-6 pm
---
The Goth Latte from Le Pointu
This doesn't mean anything to you? It wasn't clear to us either, so we investigated for you. The Goth Latte is a cappuccino, with vanilla and activated charcoal. Le Pointu decided to combine indulgence with well-being in this new drink that you will find under the "Favorite" category of their menu. Known for its detoxifying and anti-inflammatory benefits, activated charcoal makes this drink an ideal booster for a light start to the afternoon.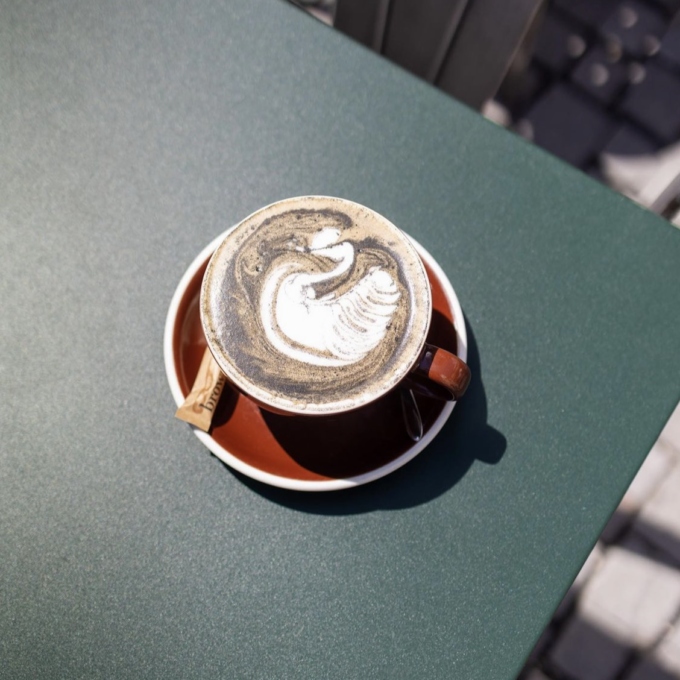 Le Pointu / Monday-Thursday 7 am-12 am, Friday 7 am-1 am, Saturday 9 am-1 am and Sunday 9:30 am-4 pm
---
The Kooka Coffee expresso
Are you on Team "quick expresso"? Kooka Coffee offers you specialty coffee to accompany you on your way to the office. On Tuesdays and Thursdays, you can find their lovely truck at the Place de la Riponne in Lausanne, or on Wednesdays and Saturdays at the Morges market. The "Little Kooka" truck is also on the EPFL campus all week long!
Kooka Coffee / Place de la Riponne : Tuesday and Thursday 7:30 am-1:30 pm / Marché de Morges: Wednesday and Saturday 7 am-1 pm / EPFL: Monday-Friday: 7:30 am-2 pm
---
The Elves' Tea at Le Cercle du Thé
We should tell you that for a moment of relaxation, onsite or to-go, it's hard to find a better place than Le Cercle du Thé (The Tea Circle)! A wide selection of 200 varieties is available in bulk or conveniently packaged in small sachets, accompanied by essential information on how to enjoy them at their best.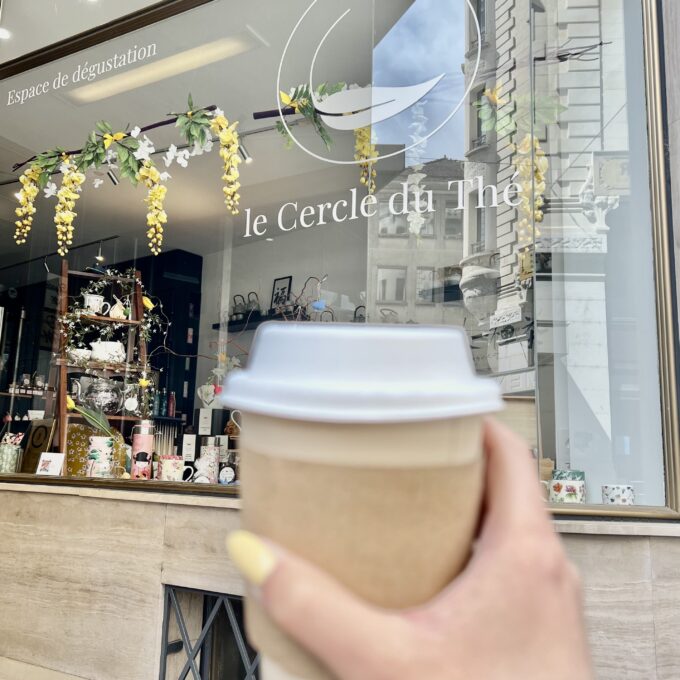 Le Cercle du Thé / Rue Grand-Saint-Jean 1 / Monday 2-6.30 pm, Tuesday – Friday 10-6.30 pm, Saturday 10-6 pm
---
Cuppin's Turmeric Latte
While we might immediately think of their enticing cupcakes, Cuppin's also offers a select menu of to go drinks. We tested their Curcuma (turmeric) Latte for you, also known as the Golden Latte and recognized for its anti-inflammatory and antioxidant benefits. Located centrally in Petit-Chêne Street, their store is right on your way when you exit the train! And why not pair your drink with a little cupcake for your commute?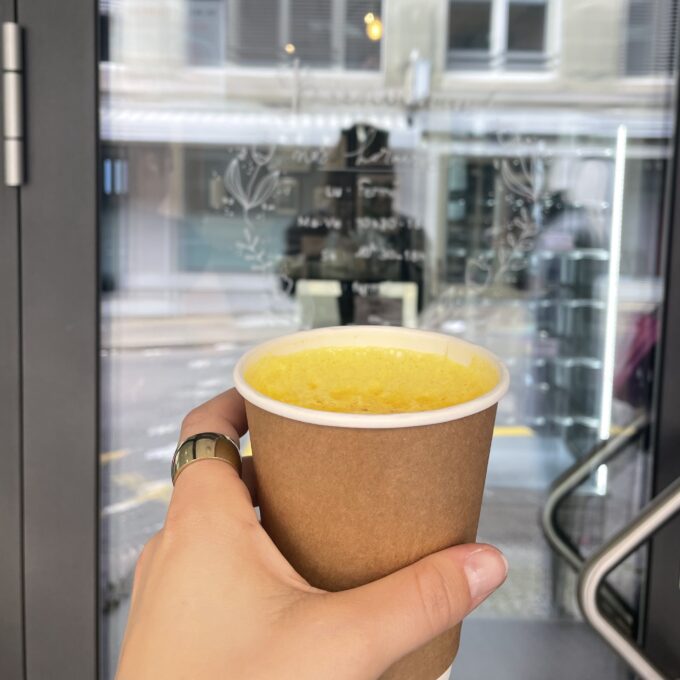 Cuppin's / Rue du Petit-Chêne 20 / Tuesday-Saturday 10:30 am-6 pm
---
Whipped Coffee from Brew Society
Get your coffee to-go at Brew Society, on the second floor of the Payot bookstore. The smell of books mingles pleasantly with coffee in this cozy café! We tried the Whipped Coffee with oat milk, a frothy and light coffee, ideal for a 10 am break.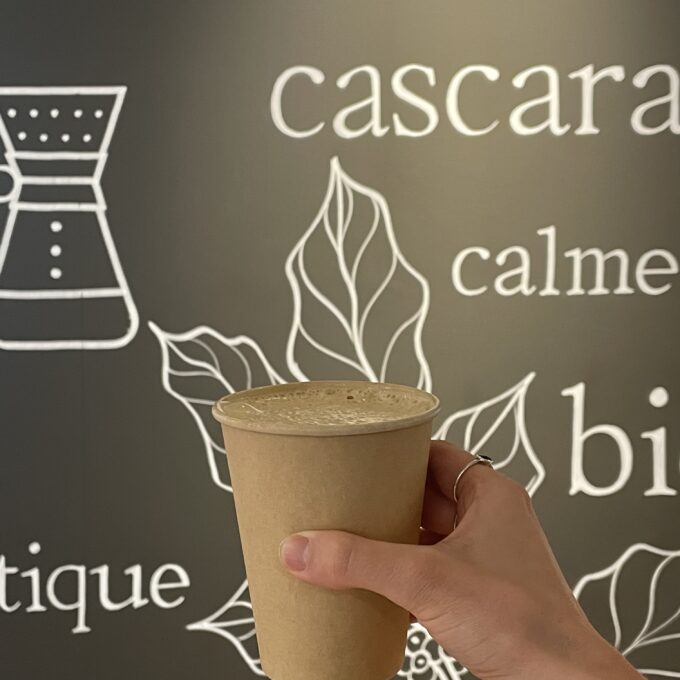 Brew Society / Librairie Payot – Place Pépinet 4 / Monday-Friday 9 am-7 pm, Saturday 9 am-6 pm
---
The Pink Hydration Smoothie from Green Up
If you're not into coffee, Green Up's smoothies can give you the boost you need. Load up on vitamins with the Pink Hydration Smoothie: strawberries, almond milk, and beets! If you prefer juices, their menu will also satisfy you: an antioxidant juice with spirulina, or the Green Power with kale and ginger. You can choose according to the benefits you're looking for!
Green Up Salad Bar / Rue Mercerie 12 : Monday-Thursday 11 am-2:30 pm and 6:30 pm-8:30 pm, Friday 11 am-2:30 pm, Sunday 12 pm-8 pm / Rue Marterey 1/3 : Monday-Friday 11 am-2:30 pm
---
Ispahan Juice from Little Persia
At Little Persia you can discover a colorful and varied part of the Iranian culture through its different dishes and juices to take away. For a sunny lunch break, we recommend the Ispahan juice: apple-pomegranate. And every week, this restaurant, just a stone's throw from the Lausanne train station, offers home-made dishes, among which you're bound to find something you like.
Little Persia / Avenue Louis-Ruchonnet 7 / every day 11 am-10 pm
---
The Ice Latte from Ça Passe Crème !
Ça Passe Crème is the brainchild of two friends who are passionate about coffee. They will greet you in their store located near the train station to inform you in length and breadth about their different specialty coffees. We tested an Ice Latte at their place, and it is creamy. And since November 2021, their more spacious premises allow them to offer various events centered around coffee, so don't hesitate to check out their website for more info!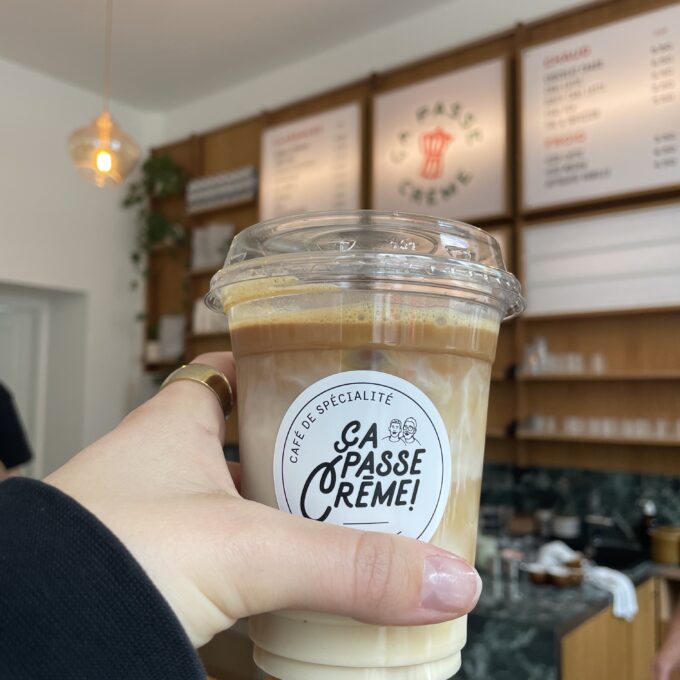 Ça Passe Crème ! / Boulevard de Grancy 49 / Tuesday-Friday 8 am-2:30 pm, Saturday 10 am-5 pm
---
Coffee at Saveur PimenThé
At Saveur PimenThé, the coffee is roasted onsite, and you can tell. In addition to the large number of coffees and loose teas for home preparation, the store offers to-go drinks. We tried the Rialto, an intense and fruity coffee. For lovers of teas and herbal teas, a great selection is available for the road. And, with the beautiful days approaching, they also offer a delicious cold tea. If you are intimidated by the breadth of the selection, don't hesitate to ask for advice!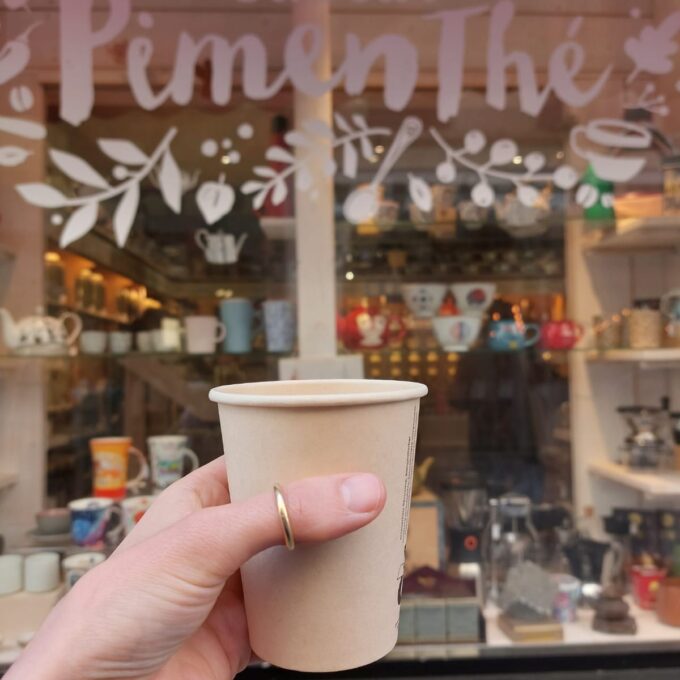 Saveur PimenThé / Rue Madeleine 5 /Monday 10:30 am-6:30 pm, Tuesday-Friday 9 am-6:30 pm, Saturday 8:30 am-5:30 pm
The Iced Honey Cinnamon Latte from La Madeleine
If you have grown weary of the traditional Iced Latte, Madeleine café offers you an original variation: honey and cinnamon. Take your coffee to-go from this pretty store near the Place de la Riponne and on the way, allow yourself to be tempted by a Madeleine from Maison Galatà.
Madeleine – Café, Livres & Co / Rue Madeleine 3 / Tuesday-Friday 8:30 am-4:30 pm, Saturday 8:30 am-5 pm
---
Homemade Lemonade at Sedef Patisserie
A little hideaway in the heights of the Galeries Benjamin-Constant, you'll need to look up in order to spot these two pastry sisters' store. It is worth a visit! If you're looking for a cool drink to-go, they'll serve you homemade lemonade, and explain the origin of its recipe. On the beach at Sedef Island in Turkey, their grandmother needed to invent an appealing drink to keep the girls sufficiently hydrated while in the sun. Driven by these childhood memories, they reproduced the recipe, which can be found in a Reel on their Instagram page.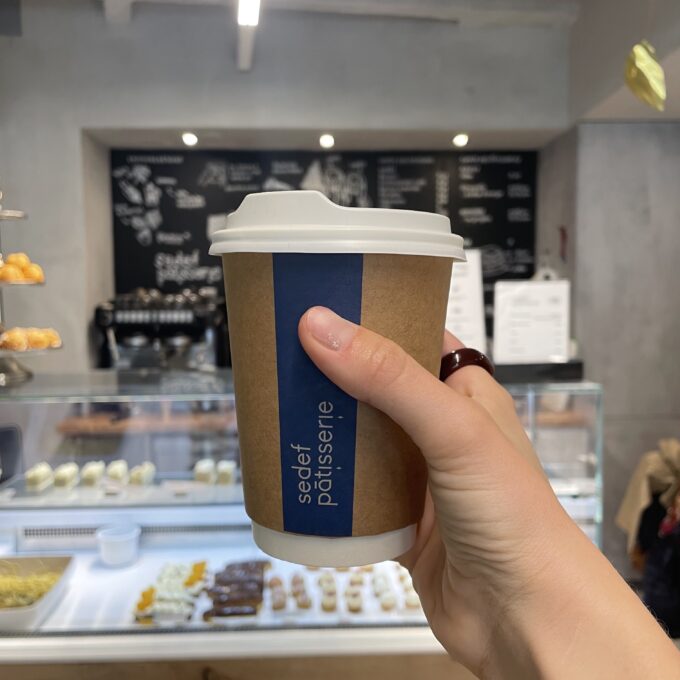 Sedef Pâtisserie / Avenue Benjamin-Constant 1 / Tuesday-Saturday 9 am-6 pm
---
*This blog post is not a ranking; the order is at random.